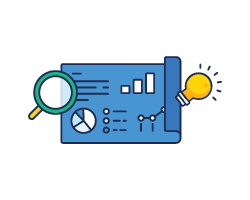 Analytics refers to the capability of data collection, attribution and measurement; whereas insights refers to the ability on how to make use of the data, and derive actionable from data insights to solve specific problems.
Establishing which metrical data points that align with the business objectives is the fundamental step prior to data collection. Metrics like average order value (AOV), return on advertising spend (ROAS), lifetime value (LTV) are preferred than cost per lead (CPL), and provide valuable insights for ecommerce business and leveraging these information will help to refine on your business strategy and build an edge in the market.
Many times, stakeholders often do not know what the metrics they should measure or what the metrics are measuring against, and therefore unable to derive any useful insights from their data.
Generally, metrics are segmented into 4 types that measure:
| Types | Metrics Example |
| --- | --- |
| Performance of channels, campaigns & activations | Impressions, Clicks, Click-through Rate (CTR), Return on Advertising Spend (ROAS), Cost per Lead (CPL) |
| Visitor quality and whether they are your potential customers | Bounce Rate, Pages/Session, Avg. Session Duration |
| Shopping journey experience | Add to Cart Rate, Remove from Cart Rate, Checkout Rate, Conversion Rate |
| Business objectives | Revenue, Transactions, Avg. Order Value, Lifetime Value (LTV) |