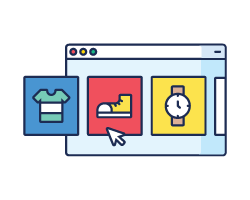 Running shopping ads on Google & Facebook is a common campaign strategy for ecommerce business or marketplaces to drive purchases. It is a quick go-to-market approach to promote new products and acquire new customers. Success of shopping ad campaigns are highly measurable based on transactional revenue, and return on ad spend – ROAS.
Overview of shopping ad campaigns setup:
1. Create Shopping Feeds
Shopping feed is a list of products from your inventory that you are going to advertise on the respective channels – Google, Facebook or Instagram.
Google Merchant Center is the shopping feed data platform if you are planning to run Google Shopping Ads. It can also integrate with the suite of products in Google Marketing Platform, e.g. run programmatic shopping ads with Google Display & Video 360, and dynamic remarketing for retail on Google Ads.
Whereas, the Catalog Manager is the platform to manage your product data & inventory to be advertised on Facebook network, which includes Instagram.
Manual Upload for Small Inventories
Shopping feed can be added manually into the above platforms, by entering the product information, e.g. SKU, product name, product description, offer price, sale price, category, brand, if you have only 10 – 20 products.
Automation with Data Feed File for Larger Inventories
However, if you are a large scale ecommerce or marketplace website that has hundreds or thousands of products to upkeep, and the product availability is ever-changing, or if your business is growing in more product offerings, then data feed file option is a more viable and scalable manner. A data feed file is usually a spreadsheet that lists out all your product information, and to be uploaded and managed in bulk. Such approach doesn't require one to manually key-in the product details in Google Merchant Center or Catalog Manager, but rather submit product data out of your product inventory database based on your business needs.
You can define business rules, e.g. top selling products in the last 7 days, to upload the data feed file. Frequency on how often the shopping feed to be refreshed on Google Merchant Center or Catalog Manager can be set to daily, weekly or monthly at business discretionary needs.
If you are using an e-commerce platform, e.g. Shopify, WooCommerce, BigCommerce, Magento, OpenCart, it is relatively easy to setup the automation by connecting your e-commerce platform to Google Merchant Center or Catalog Manager. In this case, all your product information is actually shared as shopping feeds and ready to create and run shopping campaigns.
2. Measuring Revenue
Revenue measurement is an important step to quantify success of the shopping ad campaigns. The campaigns can be prioritised and optimised further based on their ROAS & revenue impact.
3. Plan for Shopping Campaigns
Depending on business needs, the shopping campaigns can be planned & setup based on