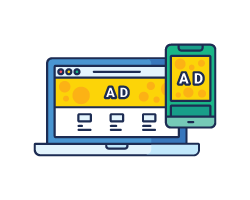 Display Advertising refers to the use of text or banner image advertising on advertising networks (i.e. Google Display Network) to reach new customers on the web and via mobile applications. Unlike SEM Marketing, Display ad campaigns targets the top of the marketing funnel and targets brand affinity with its target audience.
At tinkerEdge, we are proud Google Partners with specialization in Search, Mobile and Display Advertising using Google Ads and its Google Display Network. With its suit of products including Google proprietary websites like YouTube, Gmail, as well as millions of partnering publisher websites that make use of Google AdSense, it stands as the largest ad network today.
Leveraging on this, our digital marketing team shall identify the best performing display ad size and optimize the targeting of keywords, demographics, topics, interests, affinity audience, and in-market audience to help businesses reach the right customers.