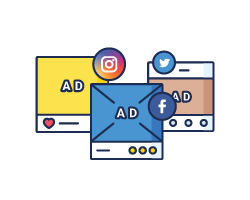 The consumption rate for each person on social networks ranges between 2 – 4 hours per day, and social media marketing strategies revolves around the use of both organic and paid social to engage customers with a full customer online footprint journey – customer acquisition, remarketing, retention and customer service.
Paid Social v.s. Organic Social
Organic social refers to social engagement activities without any paid promotions on the social platforms, whereas paid social are marketing outreach activities that typically reliant on advertising dollars. In which, ads or sponsored posts are paid by business brands to reach audiences beyond their current followers.
As social platforms are actively monetarizing the usage by business brands, organic social reach continues to dwindle and plummet, leaving business brands with paid advertising options to reach new customers and fight amongst the competitors in reinforcing your brand messages. Unlike most ATL channels, advertisers can leverage on audience targeting by demographics – age, gender, and interests to outreach your potential customers.
Despite the organic social reach is on declining, it still serves as an effective channel to manage your relationship and reputation with the existing community that are following your business brands.
How Paid Social potentially influence ecommerce purchases?
Recent survey results suggested that as high as 64% of the survey respondents use social media for shopping inspiration.
Such results are due to advertisers actively reaching customers with personalized promotions on social networks with the following phenomenal:
These customers are already using social platforms while considering making a purchase.
They are actively deciding what to buy based on what they have seen on social media platforms, including reviews and recommendations.