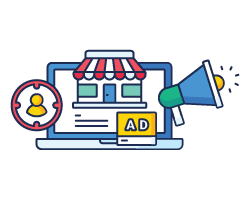 Google Remarketing is a common strategy used by digital marketing specialists. Through the use of cookies or mobile-advertising IDs, individuals who are deemed more likely to make a purchase with prior interactions with your website can be identified. Retargeting can be done, and these individuals can then be served with another round of ads.
Benefits of Google Remarketing
Facilitates in the definition of remarketing audience, and aligns audience to specific marketing goals. For example, if your website frequently observes abandoned shopping carts, our remarketing services facilitates the serving of ads to these individuals who have added items into their shopping cart but did not complete the transaction.
Allows for remarketing to your target audience as they conduct online searches, and browse more than 2 million websites and mobile applications that are part of the Google Search & Display Network.
Use of credible ad networks including Google Ads, Bing Ads, Google Search Ads 360 and Display & Video 360 to reach your ideal target audience.
Types of Google Remarketing Campaigns
Standard remarketing: Show display ads to your past visitors as they browse websites or apps on Google Display Network.
Dynamic remarketing: Show personalized ads with products or services that customers viewed on your website.
Remarketing lists for search ads (RLSA): Show search ads to your past visitors as they do follow-up searches for what they need on Google, after leaving your website.
Email-list remarketing (Customer Match): Show ads to customers who are signed in to Google Search, YouTube or Gmail, based on the uploaded list of email addresses that have been provided by your customers.
Video/mobile apps remarketing: Show ads to people who have interacted with your videos, YouTube channel, mobile apps as they use YouTube, or browse videos, websites & apps on Google Display Network.