Google Display Network, commonly known as GDN, is one of the main ad networks for display banner ads to be served to Google's wide network of publishers. GDN currently reaches 90% of Internet users internationally by reaching out to them while they are browsing the internet, which also includes YouTube as well as on mobile apps.
In the early days, Google Ads offered research tools – Keyword Planner and Display Planner for marketers to perform keyword research for search ads and identify potential placements for display campaigns targeting respectively. By targeting specific placements, e.g. yahoo.com, msn.com, you can specifically serve ads to users when they visit these websites.
However, there is a disadvantage for such managed placement targeting, especially if that is your sole targeting – your ads practically are shown to all users on those sites. And since Google Ads launch of its new UI in 2018, the Display Planner is no longer being offered to marketers. This means that you are no longer able to identify specific placements and set managed placements for your display campaigns.
With Google Ads moving away from managed placements, yet we still hear from many marketers showing great interest in targeting specific sites. It's time to abandon placement targeting, and focus on defining audience persona for your products or services for your display ads. Let's look at the available targeting options in Google Ads for display campaigns.
1. Control where your ads should appear: Topic Targeting
Google Ads has a ready list of topics for campaign targeting. Similar to your business targeting specific customer persona, your potential customers may also be interested in certain topics. Topic targeting is typically useful for branding campaigns, as your ads will show up to users on a broad set of websites related to certain topics.
For example, a luxury watch collector may also be interested in fashion accessories, and the luxury watch brand can run branding ads to target interested audiences of that topic. Another example will be audio electronics businesses can target "Electronics -> Audios -> Accessories" topic for performance-based ad targeting.
2.Control who should see your ads: Audiences Targeting
There are various types of audience targeting in Google Ads.
Affinity Audiences: Standard black-box list of users provided by Google Ads, which you can't edit or change. These users who have specific interests or possess habits, based on the shopping, lifestyle, consumption data collected by Google. Typical useful for brand awareness campaigns.
Custom Affinity Audiences: Similar targeting concept as Affinity Audiences, but rather this is a customizable list that marketers can input keywords and website URLs. You can create this targeting list by providing your competitor URLs or industry terms, when you are attempting to promote your products or services to existing customers of your competitors.
In-market Audiences: Standard taxonomy list of users provided by Google Ads, which is not customizable. Unlike Affinity Audiences that are non-intent based targeting, In-market Audiences are users that are close to making a purchase or conversion as they have expressed intent by actively looking, searching and comparing similar products or services across the internet.
Custom Intent Audiences: Similar targeting concept as In-market Audiences, which you can customize the list with keywords and website URLs that you want to target. For example, a cruise travel company can promote new sign-up offers to users who may be searching for "cheap cruises", "book cruises".
The audiences targeting options can be best represented at the respective levels of the marketing funnel: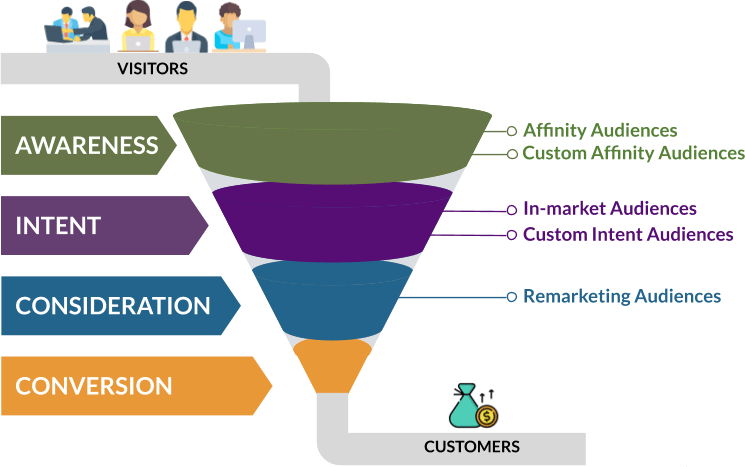 3. Demographic Targeting
Demographics, i.e. age, gender, and parental status, are available for targeting, exclusion or bid adjustments. Consider to exclude the "Unknown" users segment as their demographics data is not made known to marketers.

Creating Campaign Targeting with the Audience Persona
When it comes to crafting an audience person, you have to be specific and objective to know who you want to reach out with the right message. Here is an example of an educational institution that is offering postgraduate programs for working adults, and therefore the audience persona they want to target will be:
Age: 28 and above
Education Qualifications: Degree graduates
Interests: Looking to further their education after working for some years
And there you go, the campaign targeting is created as per defined for the persona, with a combination of targeting options. As you define your audience, there will be a metrics indicator of how many impressions that you can reach.

More Audience Targeting in Google Ads
Customer Match allows you to extract data from your CRM and create audiences for targeting, and you can leverage on Similar Audiences to expand your reach based on the similar characteristics as your existing customers. Removing or lower bids for poor performing topics or audiences in your campaigns can help to improve the overall performance.
With Google Ads moving from managed placement targeting to audience targeting, I am making a wild guess that Google is normalizing the situation to ensure the rest of the publishers can earn from the ad revenue. If only the few popular publishers that are getting the pie, publishers may leave the GDN for other ad networks.
Nevertheless, this is also a shift for marketers to define and target your customer persona, instead of purely placing ads in specific placements and praying hard that users will react to them. Performance metrics like CTRs and Conversion Rate are good indicators on whether you have reached out to them.