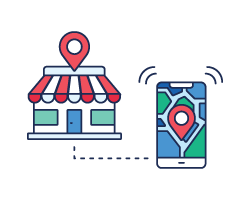 For brick-and-mortar stores, it is critical to have a good location.
Every entrepreneur will consider the demographics to make sure that the selected area is frequented by those who can afford and are interested in the goods offered. Why place a luxury boutique at a low-income neighborhood? Why open a store offering baby goods at a college town? Both will not make sense if you want to earn more and intend to keep the store running for a long time.
After zeroing on the neighborhood, every entrepreneur will narrow down his or her choices to where the foot traffic is high. Every person walking outside the store is a potential customer. They might really need the product offered or you can get their interest with displays or in-store promotions.
But that is what every entrepreneur would do to improve physical presence. In this day and age where it is getting more common for mom-and-pop stores to go bust, that is certainly not enough. To be a good entrepreneur, you need to do all those steps and take it further to ensure success and longevity.
A good entrepreneur with a digitally connected market needs to also build their presence online and convert it to physical visits and sales. As such, businesses should consider investing in search engine optimization, or SEO, for their websites.
What is SEO? This is a tool to enable your website to rank high in search pages using relevant keywords. It is part of a digital marketing strategy to get a higher ranking in search engines such as Google and Bing.
But it is not as simple as that. There are different kinds of SEO. In this case, entrepreneurs can further highlight the location of their shops and improve their visibility to their local audience with local SEO.
What is Local SEO?
Local SEO targets increasing your relevance in local search results. As its name suggests, this caters to search rankings based on proximity. Yes, this targets your immediate market unlike regular SEO which caters to everyone using the internet.
It is not just enough to rely on usual foot traffic. You must be smart enough to realize that most people now check online for places to visit. Gone were the days that people need to really come down a store to check what they need. They can now easily just check it from their phones.
And do not think it is a small thing to ignore. How many people have searched online for store opening and closing hours? How many people have searched for the nearest donut shop? How many have searched where to buy the cheapest gadgets or where to get them repaired?
Nowadays, search engines like Google consider your location in providing answers for you. A simple query such as "best froyo" will return results that are relevant to your location whether you input it or not. By investing in local SEO services, you are making sure that your target market easily sees you and the services you offer.
The battle between you and your competitors are not anymore limited to just the bright and colorful signages outside of your shops. It is also on how you rank online when people search for you.
How does local SEO help in digital marketing?
Consider this. Many people think that a store ranking high in online searches is the one where most people flock. As such, the higher the rank, the more trustworthy you are seen by potential customers. And it already gives you an advantage compared to your business rivals. Few businesses actually get local SEO services.
You should therefore not discount the importance of local SEO in your digital marketing strategy. Yes, advertisements on social media can pique your customers interest. But what do they do with that? Obviously, most do research to gather more information before they visit you. And how do they get a hold of the information? By Googling it.
This also means that you can easily craft personalized campaigns that targets a more specific group of people. By customizing it for a more relevant group, you can actually lower your marketing expenses and offer better experiences for your customers.
And that is just one of the possibilities.
Challenges faced in Local SEO
It may sound easy on how to make you stand out in your local scene, but it is actually more complicated than you can imagine.
A good strategy will first zero in on asking you if you have a Google My Business Account. This service acts like your old phone directory, but with added features. More than just providing a business listing, it is also designed to connect you to your customers through Google Search and Maps.
Google has become the household name for a search engine, but did you know that its navigation app also currently holds the largest market share? And this is very important to note because over 77% of smartphone users regularly use navigation apps, according to The Manifest.
You can't be on Google Maps without a Google My Business account.
As such, making use of these powerful tools to make your presence known is a must. But how do you keep up with competitors also using them?
Verifying your listing is the first step. Optimizing it is the second. This means posting photos and sharing videos to increase traffic to your website. It also means being proactive in asking for reviews from your customers and responding promptly. Moreover, it requires constant vigilance on keeping your information consistent all throughout the web, whether it is your address or operating hours. A good provider of local SEO services will also make sure you are taking advantage of other tools offered by your Google My Business account – like appointment bookings – to highlight your responsiveness to potential clients.
And that's not all. You need to produce web content with targeted keywords to ensure searchability in Google. Thus, a good provider of local SEO services will ensure usage of appropriate location keywords.
It goes beyond the "near me" searches. A local SEO company will make use of variations of local searches. Yes, even the long-tail search terms like "Holland Village cafes that allow people to bring dogs" and "themed nightclub party in Clarke Quay."
This may sound odd but those kinds of searches actually tend to get conversions to benefit your business.
Why choose tinkerEdge?
See how getting local SEO services would benefit you? You already spent money on letting people know you. But have you been telling the right people?
This is where we come into play. Think about us like a friendly neighbor who help spreads the word about your store. After all, word of mouth still helps get people to buy stuff.
We offer local SEO services to make you stand out whether it is in maps or local searches. We will make sure to use appropriate keywords to improve your visibility and become a common knowledge in your area. When people ask where to get the product they are looking for in your service area? The answer should immediately be you.
But we just do not answer any package. It is highly customizable because we understand that you have specific needs. Our local SEO company is ready to accommodate your needs. We have a team who are highly experienced in crafting campaigns for small-to-medium enterprises to big retail chains. We will be with you on your journey to establish in a new geographical area or strengthen your foothold in an existing market.
At tinkerEdge, we not only look at providing you services but form long-term relationships to see your plans and efforts come into fruition. We do not promise. We ask for what you need and we deliver exactly that.