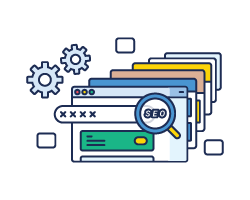 Which SEO strategies you looking at for your website?
Optimizing a large-scale content or e-commerce website
Enterprise SEO solutions are generally applicable for large-scale websites to reach your targeted audiences, drive organic search traffic, sales & conversions. Typically for businesses that are adopting global marketing strategy – selling products or services to customers across continents & markets, or even planning to explore new markets for growth.
Objective: to achieve scalability and high efficiency in creating & optimizing your website content, and driving relevant audiences from search engine result pages.
Laying SEO foundations before developing a new website
Many website owners have overlooked SEO considerations when they launch new websites, only to realize that after-launch changes are found to be extensive and expensive. Revamping & migrating websites are very common development work, but businesses often neglect the importance of having a revamp/migration plan with SEO requirements. Awareness of the negative impact usually comes late when a decline in organic search traffic & conversions is detected after the website has undergone revamp or migration.
Objective: to achieve savings on unnecessary costs and maximize on higher SEO turnaround efforts for your website.
How is Enterprise-level SEO different?
Implement scalable & cost-efficient SEO solutions that is tailored to large websites
Cater for future scale-up & expansion of the website in the future
Involves working with different stakeholders: digital product managers/owners, UI designers, web analysts, marketing teams & developers
How we can help in SEO to drive organic search traffic?
SEO Strategy
Perform a thorough check & audit to discover opportunities to maintain your website's search visibility on search engines
Plan ahead with SEO requirements for the website revamp or migration
Optimize the search experience for omnichannel strategy
Devise organic search traffic recovery strategy for websites that have negatively impacted by Google algorithm updates
On-page optimization
Explore additional SEO avenues from competitive analysis, keyword research & analytics
Devise keyword targeting strategies from search demands
Identify, create & optimize key landing pages to drive more organic search traffic & conversions
On-site optimization
Optimize website navigation & build internal links within your website
Manage search engine robots in crawling and indexing your website
Reduce duplicate content & low-quality web pages that are less preferred by search engines