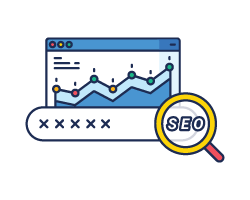 The best? The cheapest? The newest?
No matter how you describe yourself, it would not matter much if an internet search does not validate that. Any reputable individual, group, or company at that the top of their game should rank high in a related internet search.
Showing up on the first page of an internet search list solidifies your name recall and validates your trustworthiness to the public. It is like embedding yourself to the people's consciousness without the need to pay a huge amount for an annoying commercial jingle.
But how do you get on top? Proper messaging is important, but marketing it properly is the key. This is where search engine optimization, or SEO, comes into play.
What is SEO?
SEO is a digital marketing strategy that helps improves visibility and increase organic traffic to your website. Yes, it means no paid ads and similar placements. Just free and unlimited clicks to your website from real people doing regular internet searches for all their wants and needs.
As such, this type of marketing targets on raising your relevance to appear higher on various search engines like Google, Yahoo and Bing.
What is SEO marketing?
For most people, SEO is as simple as improving website content to include the right keywords that your potential audience or customers would use for searching. A bit fewer would know that you would need credible links within your content to increase your ranking. But a successful SEO marketing campaign is more than just the perfect content.
A perfectly planned campaign involves researching your audience, competition and other important details that could improve your ranking. Then, you use this research and craft it around tried and tested techniques to provide positive results.
But can you see the results? It is important to have quantifiable targets to track the progress within the duration of the campaign. How many impressions and clicks in a month? How fast did your ranking improve and how long did it last at its highest position? How many external sites linked backed to your own webpage? How much of this improved traffic translated to increase in sales and revenue? Every campaign should include an accurate and regular audits to show its effectiveness.
Why is SEO important?
For growing your brand or business, SEO is not just an option in your whole marketing plan. It should already be an integral part of it.
You may ask, how is SEO helpful in my digital marketing strategy? Well, expanding your internet exposure or reach is a must. Competition is not just about what you are offering but also about how people are able to find out what you are offering. And the easiest way to help people find what they are looking for? Internet searches.
Where should I dine? What kind of beer should I try? What's the best fabric softener? A quick question to a friend would probably elicit an easy and already typical response of "Google it."
As such, it would be a mistake not to invest in SEO services when most people rely on the internet for information. Based on government data, Singapore's individual internet usage has hit 84% in 2018. Think about how many of those people are using the internet to ask questions and look for products and services. Now, think about the rest of the world. Your audience and your potential customers could be that limitless.
Today, it is not enough to just have an online presence. You need to go above and beyond that. A good start would be SEO marketing.
Make a good website. Create great content. And then, make it easy to find.
How to choose an SEO Agency?
Choosing the right agency could make and break your campaign. And with everybody offering almost the same SEO services, how do you pick the one to trust in growing your brand or business?
An obvious answer would be to check how the agency itself ranks in searches.
Aside from that, be sure to check their portfolio. Who are their clients? What industries have they serviced? Have they worked with the financial industry or healthcare? The aerospace industry or the energy sector? Do they have a lot of retail industry experience? How successful were they in driving traffic?
And then when all of these have been answered, ask what makes them stand out from their competition.
A good provider of services should know that there is no such thing as a one-size-fits-all strategy when it comes to digital marketing. It should instead be able to cater to all your needs.
What are the different types of SEO services?
There are many types of SEO services, depending on the needs of a client and the industry where they belong: